XY LED is pleased to offer the first outdoor LED advertising screen on Medway City Estate.
The highly prominent screen is a huge 8 feet wide by 4 feet high and will display your advert every two minutes (120 seconds). Outdoor advertising puts your message right in front of potential customers and they can't switch off or turn over the page.
You can promote your products, services, brand and special offers. According to research, 7 out of 10 have seen 'out of home' adverts in the last month.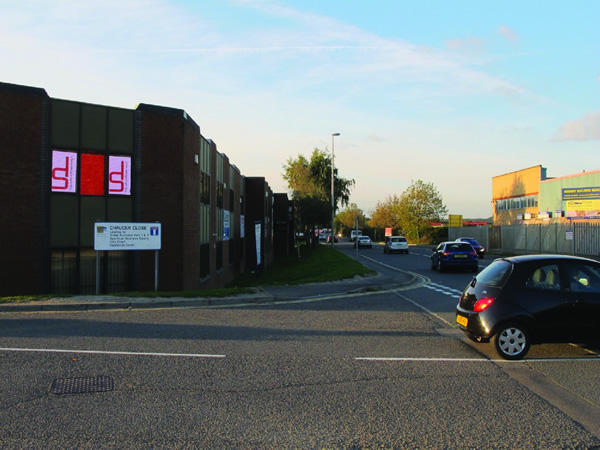 Eight Reasons For Using Outdoor Digital Advertising
1. Successful – it's used by 95 of the top 100 advertisers.
2. Unavoidable – it can't be switched off or avoided.
3. Consumer friendly – non-intrusive, catches you in down time.
4. Growing - when many other advertising media are in decline.
5. Improving – investment in quality and state of the art LED technology.
6. Adaptable – short cycles with digital flexibility.
7. Community - allows your business to become synonymous with other well-known local and national brands by advertising alongside them.
8. Experience - XYLED is a local company with local knowledge & interest in the local economy.
Promoting Your Business Is Easy
Simply let us know what you would like to promote and our in-house design team will create a bold, attention grabbing advert using your branding. Alternatively you can create your own advert. Our technical specification is shown below.
The Location
The screen is located close to a prime roundabout location, in the heart of Medway City Estate. Medway City Estate is the largest of the industrial estates in the area and also the largest for number of business on it in Europe, why advertise here?
Population of 1.8 million in the Medway towns.
49% ABC1 class visitors.
Strategically positioned to make the most of the visibility to traffic.
On average 15,000 vehicles drive past the site every day.
The location is situated on a bus route.
The Package
Adverts are limited and will be sold on a first come, first served basis. Advance booking is highly recommended.
Your advert displayed on a LED screen, 8 feet wide by 4 feet high.
Adverts will run from Monday to Friday at 7.30am to 7:30pm, 9am to 5:30pm Saturday and 10am to 4:30pm Sunday.
Your advert will be displayed a minimum of 2250 times over a seven day period.
That's 321 adverts per day.
Your advert will be displayed every 2 minutes (120 Seconds)
Each advert will last 10 seconds.
Technical Specification / Artwork
All artwork should be supplied in jpeg format at 72 dpi. Artwork dimensions are 384 pixels wide by 192 pixels high. When putting together an advert to be shown on the big screen, for maximum impact and effect, consideration should be given to the use of minimal text and bold fonts. Please send artwork to artwork@xyled.co.uk.
Design package
We offer a design package at a very reasonable rate. Please contact us on 01634 914073 to speak to one of the team.
Content Guidelines
All adverts should adhere to the realms of acceptability and must avoid phrases, expressions, insulting terms or curses that may be deemed inappropriate. Controversial subjects such as smoking and alcohol will not be accepted. Assurances may be required to confirm that copyright has been sought and not breached, so that there will be no liability for payments to artists etc. by broadcasting their work without prior permission.
Additional Advertising Sites Are Available